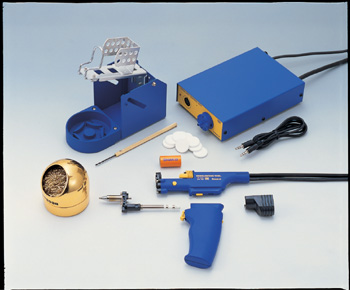 FM2024-21 CK, DSDRG, w/HANLDE&FH-200, w/o NOZZLE, FM-2024


In Stock: 3
Price: Request Quote

Add to order/quote


FM2024-21

FM-2024 Desoldering Module
The Hakko FM-2024 Desoldering Module extends the versatility of the award winning Hakko FM-202 or the new FM-203 Soldering Station giving you a complete soldering and desoldering solution, in one modular station.

NOZZLE/TIP HEATER CARTRIDGE
Building on Hakko's revolutionary composite tip technology, the desoldering nozzle/tip heater cartridge assembly offers a one-step, quick-change design with fast thermal recovery; the enlarged throat and shortened nozzle design is virtually non-cloggable, making it ideal for NO LEAD applications; and its slender body enables it to reach those difficult-to-reach component pads on densely populated boards.

GUN TO PENCIL CONFIGURATION
The Hakko FM-2024 also features an extremely lightweight, reconfigurable handpiece that allows the user the option to use the tool as either a gun or pencil style handpiece by simply removing or adding the Handle.


| | |
| --- | --- |
| Model Name | FM-2024 |
| Part No. | FM2024-21 |
Power Consumption
12W
Output
24V
Vacuum Generator
Ejector type
Vacuum Pressure (max)
93 kPa (700 mmHg) (28in. Hg)
Suction Flow
20 l/min.
Tip to Ground Potential
Under 2 mV
Applied Air Pressure
490 kPa (71 PSI) when in use
(trigger is pressed)
Compressed Air Consumption
1.62 cfm (46 l/min.)
Outer Dimensions
(w/o cord)
119(W) x 45(H) x 172(D) mm
4.7(W) x 1.8(H) x 6.8(D) in.
Weight
1.2 kg (2.6 lbs.)
| | |
| --- | --- |
| APPROVED | |



Note:

490 kPA = 71 PSI. This is input air pressure when the trigger is pressed to actuate the vacuum. Do NOT attach the FM-2024 to more than 128 PSI.


Desoldering Tool

Power Consumption
70W (24V)
Temperature Range
350°C - 450°C (660°F - 840°F)
Tip to Ground Resistance
Under 2 Ohms
Tip to Ground Potential
Under 2 mV
Length
(w/o cord)
180mm (7.09 in.)
Length of Cord
1.2m (4 ft.)
Weight
(w/o cord and hose)
65g (2.3 oz.)
CONTENTS
| | | |
| --- | --- | --- |
| Part No. | Description | Part No. |
| FM2024-21 | Tool w/ handle | FM2024-02 |
| | Desolder control box | C1492 |
| | Handpiece holder | FH100-03 |
| | Cleaning drill | B2873 |
| | Nozzle remover | B2876 |
| | Rubber feet (2 pieces) | |
| | Nozzle not included | - |